Our Story
Kangaroo Jack is proudly an Australian owned and operated LGBTIQA+ small business, located in the coastal town of Torquay, Victoria. Kangaroo Jack is an allied business working together in collaboration with Australian Indigenous and LGBTIQA+ owned and operated not-for-profit organisations, supporting both Australian Indigenous and Non-Indigenous artists, communities and wildlife conservation projects.
Kangaroo Jack was established in 2019 from humble beginnings, as a small tourism operator on the Great Ocean Road in Victoria. Due to the Covid-19 Pandemic in 2020, we were forced to pivot our small business in order to survive financial hardship with restrictions on domestic and international visitors to our region and in doing so our Kangaroo Jack merchandise brand was formed.
Our Kangaroo Jack merchandise is unique as it was originally produced to raise funds to help support our local community and keep everyone safe during the pandemic with a shortage of PPE supplies in Australia. The success of our brand and products is credited to the local community support and national press we received and has enabled our small business to expand our range of products and collaborating partnerships to support more not-for-profit organisations, making a real difference in the community. Working in collaboration with our partners and not-for-profit organisations, proceeds of sales from our range of merchandise products help to support community initiatives and wildlife conservation projects across Australia.
At the core of our brand is our 'Kangaroo (Badagarang) Jack' artwork, representing connection to country, unity and equality for all. The artwork was created by Indigenous Australian artist M.J. Badagarang.
"The traditional name for a kangaroo in Dharug Country is 'Badagarang', this is my totem animal that I must always protect and cherish. The kangaroo is a strong, native Australian animal and is considered to be very family orientated. The yellow, orange and brown lines inside the kangaroo artwork represent the rivers in Australia. Rivers are important to us as traditional people as it provides life to 'Country'. In my culture the term 'Country' refers to people, animals, place and land. The orange dots that form small circles represent communities, signifying the 250 Aboriginal Countries that make up Australia. The 'U' shapes around the kangaroo symbolises the different people coming from around the world that are seeking understanding for culture and traditional Australia. The white dots connect us all, as one people. No matter where you come from, I acknowledge you and thank you for visiting the stories my old people left us.
Let's walk together".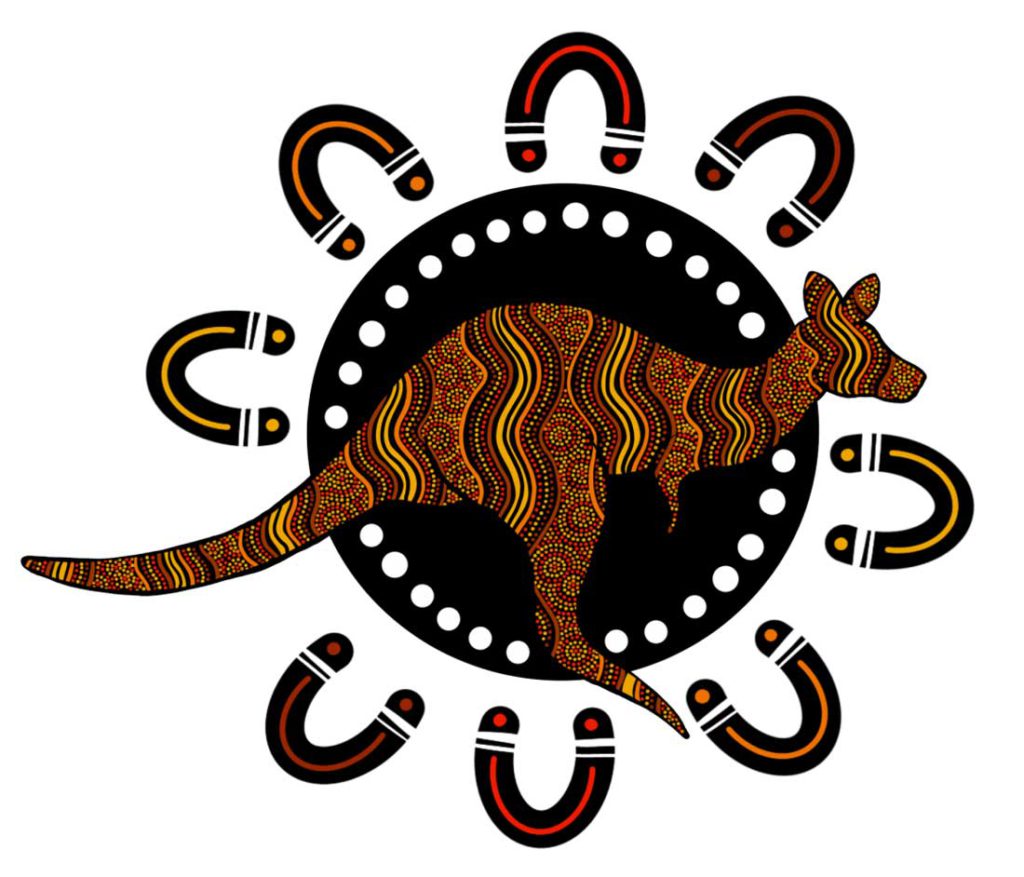 Kangaroo (Badagarang) Jack
Copyright 2019